Help Us Rebuild

A fire broke out at the Bear Creek Community Church on Finley road around 6 o'clock Thursday morning. Dozens of firefighters battled the flames but much of the church was destroyed. Members of the church say they are determined to make their sanctuary home again.
The sanctuary of an Irving church known for helping the homeless was destroyed in a large fire before sunrise Thursday morning.
Video from Texas Sky Ranger showed flames soaring above the Bear Creek Community Church on Finley Road shortly before 7 a.m. Crews escalated the fire to three alarms by about 7:15 a.m., about an hour after first arriving at the scene.
No one was inside the sanctuary area when the fire started, though about 11 people were staying in a connected building where the church sheltered the homeless, said Rick Sanderson, Irving fire battalion chief.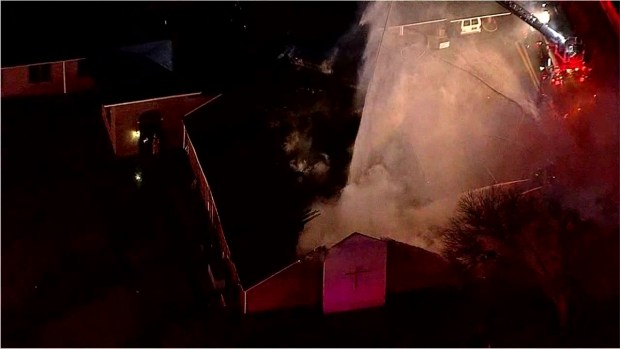 It's not clear what sparked the fire. No one was injured.
Dennis Webb, the senior pastor at the church and a former firefighter with Grand Praire, said the sanctuary was a total loss.
"While I was on the prayer line I heard from a firefighter friend of mine, who told me, 'your church is on fire,'" recalled Webb. "I kinda teared up a little watching it; I watched a lot of other people stand outside on the street watch their homes, building go up in flames."
Webb said he felt sorry for other church members who aren't used to seeing the devastation left by fires. He explained the church community will eventually rebuild the sanctuary.

"When you got the mechanical mindset like firemen, we go to work. But when it's you, you feel it, and I felt it this morning," said Webb.
Church History
In September 1995, one of Pastor Webb's cousins recommitted her life to Jesus Christ at the church he attended. She was addicted to crack cocaine.  Pastor Webb realized that besides spiritual guidance she needed more support that the church did not offer.  He decided to start a support group where people who were struggling with drug addiction could come and share and be ministered to in a safe nonjudgmental environment.
Putting his TRUST in the Lord, he opened his home up once a week and after four months it grew to include people needing support in other areas of their life.  "I begin to realize I was acting in the capacity of Pastor.  The Lord begin to impress on my heart to form this into a congregation", says Pastor Webb.
The group then met in an upstairs classroom at First Baptist Church of Irving until November 2000 when it out grew the chapel where they met.  The initial gathering was the inaugural worship service of the Bear Creek Community Church.  There were thirty-seven people present at the first service.  According to Pastor Webb, he did not want to start a church but the Lord had other plans He put his TRUST in God for direction.
Sensing a need to establish their own location, the church leased a warehouse in November 2000 in the Bear Creek community on Conflans Rd.  In March 2006, the church began to TRUST the Lord for a new home and was marvelously blessed to begin buying the 26,000he 26,000
English: World English Bible - WEB
Izbrano poglavje ne obstaja! Štetje svetopisemskih vrstic se za?ne z 1! Vrstica 0 ne obstaja!

WP-Bible plugin square foot facility it now occupies.
Our church has seen its membership steadily flourish.  God is constantly entrusting Pastor Webb to lead members to Christ as he continues to add new members to our church family.
Most recently, the church was able to pay cash for a beautiful van and has now directed our focus and put our TRUST in God for a Family Life Center to further meet the needs of the community.